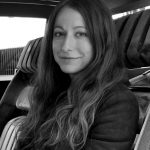 Founder Studio SA/MA
Our Designer Partner
Graduated with honors from International Fashion Academy IFA in Shanghai in fashion design, Sabine has since worked internationally for a range of Well-known Global Luxury brands.
After freelancing in Shanghai, she moved to London to join the Alexander McQueen design studio, where she stayed for two years.
She then moved to Paris and joined Givenchy in the women's print division, where she grew from print designer to head of the women's print department over a six-year period.
She has founded her own print and fashion design studio, studio SA/MA, where she currently works for global luxury and well-known clients in amongst others Shanghai, Paris, London and Amsterdam.
Since we met her in Shanghai in 2012, Sabine has been providing creative input for fashion and print design and we're excited to continue our journey with her.